Oct 2nd, 2011
|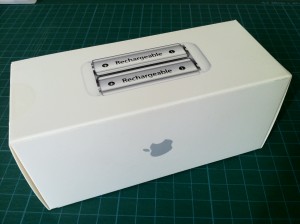 What's in the box?
Charger for two AA size batteries.
Appropriate AC plug for the country where the charger was purchased.
Six 1.2v 1900mAh rechargeable NiMH (Nickel Metal Hydride) AA size batteries.
Quick start user guide.
Warranty information.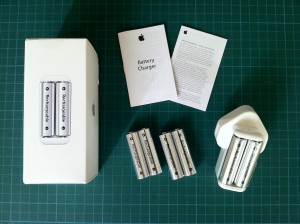 According to the user guide, the charger requires 5 hours to fully charge a pair of AA batteries. There is a small LED light at the top of the charger in amber when charging which turns Green when fully charged much like the charger for Apple portables such as the iBooks, PowerBooks, MacBooks and MacBook Pros.
The light turns off automatically after 6 hours to conserve energy. If it flashes in amber when batteries are inserted, it could mean an unsupported battery type, faulty batteries or just not seated properly.
The AC plug is similar to those used for Apple portables and older iPod/ iPhone chargers. Thus this AA battery charger is compatible with the Apple World Travel Adapter kit making it easy for use during holidays abroad.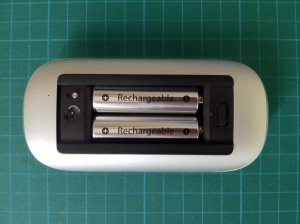 Most batteries come in packs of two or four but Apple chose to bundle six with the battery charger. Two went into a magic mouse while the next pair was used to power a magic trackpad. The last pair could be kept charged ready for use or for the newer apple wireless keyboards that use two batteries instead of three.
The batteries came fully charged and ready to use and should hold most of their charge for more than a year. It sounds similar to the Sanyo Eneloop batteries which I did consider buying except that the prices were similar to the Apple battery charger where I live.
I would love to buy more rechargeable batteries for use in other devices such as camera flash, torch lights and more but unfortunately Apple does not sell the AA rechargeable batteries on it's own.