Nov 16th, 2009
|
After some years in storage, we found that the original USB apple speakers that came with the G4 Cube was no longer working properly. The black rubber surrounding the chrome speaker cone was starting to disintegrate.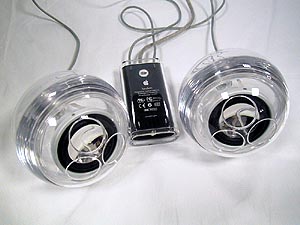 The Harman Kardon Soundsticks have always been a visually appealing set of speakers. The shiny clear acrylic speakers with a jelly fish like sub woofer have always attracted me.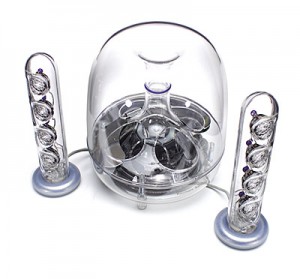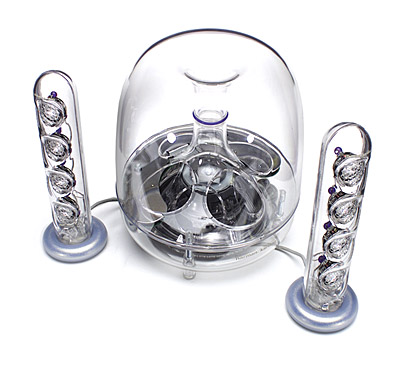 The original speakers that came with the G4 Cube was designed by Harman Kardon and so both are of a similar design. As the G4 Cube does not come with a built in audio port, finding replacement speakers will be a challange.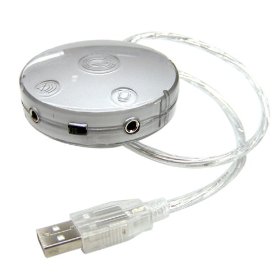 Griffin Technologies introduced one of the first products to address this issue. It is called the iMic and connects to any Macintosh via the USB port. A microphone and headphone port allows users to connect external speakers and audio in.
Even with this device or something similar, the rest of the speakers available probably will not match the all clear transparent minimalist look of the G4 Cube, Apple Studio Display and Apple Pro mouse & keyboard.
The prices of the Harman Kardon Soundsticks have remained pretty high and so we have never bought it. The G4 Cube is also not in active service hence it would seem a lot of money to spend on speakers for it.
That was untill early this morning while I was checking my email and dropped by my favourite mac forums. Someone had a brand new sealed in the box Harman Kardon Soundsticks I for sale. At a price of almost half the cost of a new Harman Kardon Soundsticks II, a quick text message to the seller sealed the deal. I guess the saying is right, early bird catches the worm.
The difference between the version I and II of the Harman Kardon Soundsticks is a different connection. The original version used USB and can not be connected to an iPod or other audio device limiting it's use to a computer. The second version is more flexible and uses a common audio jack.
So here it is, the unboxing of a pair of brand new Harman Kardon Soundsticks speakers at least 5 years young.