Aug 12th, 2009
|
At present, all the Macs are scattered everyone. A few of them are displayed on a shelf while the rest are tucked in the store room and around the house.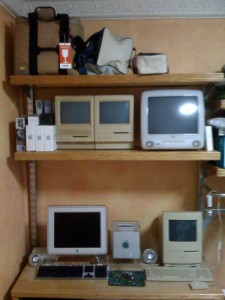 The metal framing of the shelf was bought from ikea and the timber shelves salvaged from a shop that closed down.
As we are moving to a new place, it's time to create a nicer display and work area. New white laminated timber shelves have been ordered and there's now a small room approximately 1.5m x 2.8m to display the collection. 
(Photo Coming Soon…)
Behind the frosted glass is the kitchen. Initially we wanted to have it as clear glass so the Macs were viewed from the kitchen. But knowing that it might get pretty messy at times with Macs taken apart for repairs we decided to keep the glass frosted so that all the mess is contained within the room.
The frost is just a sticker and we intend to remove the frosted sticker over the little window on the right to place an LCD monitor for viewing recipes and catching up on the news or weather from the kitchen. Now if only I could find a cheap Apple Cinema Display.
(Photo Coming Soon…)
While the renovation works are going on, the Macs have been stored in the guest room. The wardrobe is filled with Macs. There's the two Twentieth Anniversary Macintosh.