May 6th, 2009
|
Today's find is a pair of 2nd and 3rd generation iPods. 
The 2nd generation iPod was first released on 17th July 2002 in 10gb and 20gb capacities. The iPod in hand is the 20gb version. It is synced to iTunes through a firewire 400 cable. The form factor and design is similar to the original iPod except for a touch sensitive wheel.
Apple continued the transition to touch with the 3rd generation iPod. Not only was the wheel touch sensitive, all the 4 play, pause and forward buttons were touch sensitive. The 3rd generation iPod was launched on 28th April 2003 in 10, 15, 20, 30 and 40gb versions. A new dock connector was introduced with connection to a free USB or firewire 400 port on the computer.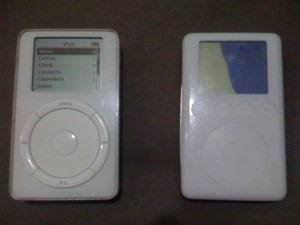 Our 2nd generation iPod has light scratches and a slightly faulty earphone port while the 3rd generation iPod has a cracked LCD screen. As the LCD has been broken for a long time, the liquid may have leaked and damaged the rest of the internals. It does not respond when plugged in at the moment.
Check back for updates as we take apart the 3rd generation iPod to see what's inside.