May 9th, 2009
|
Almost every Apple product is well detailed. From the external, there are no visible screws that hold the casing together.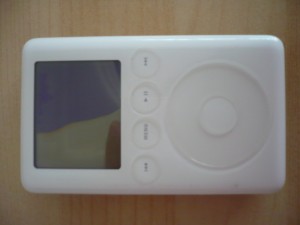 To open the iPod, a thin plastic piece is used to pry the white plastic from the metal back. There are a few clips along the side and bottom. Places like Ebay and electronics shops may also stock iPod opening tools. I did not have one on hand and improvised with a swiss army knife. The case already has a few scratches and it looks like someone has attempted or opened this iPod before.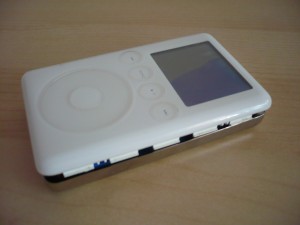 In the past when opening up a Mac Mini, I used an old ATM card. Someone suggested using a guitar pick as it is also a soft material and would leave major marks on the case. 
After prying the back metal case off, be careful as the audio connector is connected to both the back plate and the front bezel. The 1.8 inch hard disk takes up quite a bit of space. Below the hard disk is the circuit board and battery.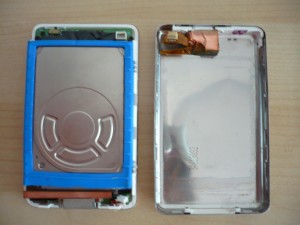 There appears to be a liquid on the blue rubber gasket holding the hard disk and also on the circuit board. We thought it might have been the LCD but it looks like the battery is the culprit. The area around the LCD looks clean and dry though. As the LCD has cracked, we removed it to prevent more chemicals from spilling out.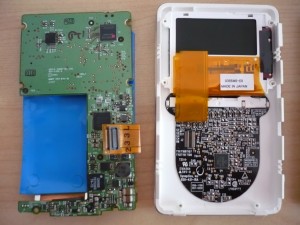 The battery and LCD is wrapped carefully and disposed off while the circuit board, back case and rubber gasket is dunked into a bowl of soapy water. We read someone before that a Compact Mac was saved this way. For now, the parts are being air dried.
We will try to put it back together next week. Any suggestions and ideas what to do with the casing if the iPod still refuses to work?